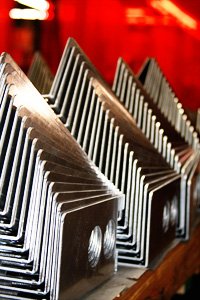 Group Manufacturing's sheet metal facility is equipped with the latest in sheet metal fabrication technology.
Using both AMADA and PRIMA Lasers we are capable of cutting ¾" armor with extreme precision.
With our focus on productivity each laser has a dedicated nitrogen generator reducing down time.
Also; Group utilizes AMADA CNC-controlled punching machines able to integrate special tools such as countersinks, extrusions and louvers to be punched within the program limiting secondary operations.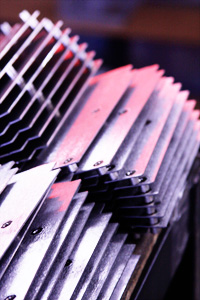 Running Amada and Wysong press brakes with up to 350 ton capacity for precise forming our experienced employees will ensure quality and productivity.
Our facility also contains an in-house Chem Film station enabling complete control of the final product.
GMS is committed to meeting the needs of our customers and will invest in creating long term partnerships.
Our comprehensive services and leading edge technology allow us to produce everything from a prototype product to extensive component production.
Quality, accuracy and uniformity are the result of our efficient production methods and high standards.
Sheet Metal Division Equipment
---

Shearing
Amada 8′ Shear w/ 6′ Squaring Arm 3/16″ Capacity
Amada 9″ x 9″ Hydraulic Corner Notcher 1/8″ Capacity
Di-Arco 2″ Hand Shear
Di-Arco 6″ x 6″ Manual Notcher
Geka Minicrop Iron Worker 3/8 Capacity
Punching
Amada Vipros lll,3510 NT, 58 Station turret punch Press 50″ x 96.5″ Table (1 ea.)
Amada 358 Vipros, 58 Station Turret Punch Press 50″ x 80″ Table (2 ea.)
Amada SPH 30, 3 Station Programmable Punch Press 16″ x 36″ Travel
Roper Whitney Kick Press
Laser
Amada LC 3015, 3 axis, 4000 watt, Dual Pallet 
Prima Platnio 1530, 3 axis, 4000 watt, Dual Pallet
Deburring
Timesaver 137-1 HDMN 36″ Wet Speedsander
Timesaver 960-lMW 9″ Wet Speedsander
Ultramatic SVB 3.5 Tumbler
Ultramatic Series 110 Model 5 Portaburr Tumbler
Trinco Dry Blaster
Variety of Hand Grinders and Oscillating Sanders
Forming
Wysong MTH350-168, 14', Hydraulic Press Brake with Numeric Control 350 Ton
Amada HFB1254, 14′ Hydraulic Press Brake with 3D Numeric Control 140 Ton
Amada FBD III 1030 NT, 10′ Hydraulic Press Brake with Numeric Control 100 Ton
Amada RG1OOS 8′ Hydraulic Press Brake with Numeric Control 100Ton
Amada RG80 8′ Hydraulic Press Brake with Numeric Control 80 Ton
Amada RG50 6′ Hydraulic Press Brake with Numeric Control 50 Ton
Amada RG35 4′ Hydraulic Press Brake with Numeric Control 30 Ton
Tri-Acro 4′ Hydro-Mechanical Press Brake 15 Ton
Di-Acro 24″ Hand Brake
Di-Acro Hand Roller 1″ x 12″ – 3″ x 48″
SL18 Power Roller 3″ x 48″
Ercolina Tube Bending, 3" Capacity
Hines Model 300 CNC-B Hydraulic Tube Bender 4" Capacity
Ercolina Tube Notching, 1″ – 3" Capacity
Tapping
Race Industries Nct3 Auto Tapping Head for N/C Turret Punch Press (2 ea.)
Clear Alodine Station
In-House Clear Chem Film Station meeting required MIL standards.
Saw
Hyd-Mech Vertical Band Saw 6" Capacity
Doringer Cold Saw 4.75″ Capacity
Hyd-Mech DM-6 Band Saw 6″ Capacity
Hardware Installation
Haeger Autofeed Insertion Press (2 ea.)
Haeger Insertion Press (2 ea.)
Variety of Pneumatic Riveters and C-Squeeze
Welding
Panasonic "Performance Arc" Programmable Robotic Welder, 6 axis, Servo Controled
Lincoln Tig Welder, Nema CL II (10 ea.)
Millermatic 35 Mig Welder (6 ea.)
Amada 125 KVA Spotwelder
Atomic 100 KVA Spotwelder
Siaky Spot-Welders 100 kva. (2 ea.)
Welding Platten 5′ x 8′
Milling/Drilling
Bridgeport Mill 24" (2 ea.)
Triple Drill Press ½" Capacity
Support Equipment
MetalSoft/Fabricam CAD/CAM Programming System for N/C Turret Punch Presses
AutoCad 2000 Support & Design Software
SolidWorks 2007 Support & Design Software