Beyond the question, "How does contract manufacturing work?" the discussion very quickly turns to "How do I select a contract manufacturing partner?"
Selecting a contract manufacturing partner is a critical process and should not be taken lightly.
Large sized manufacturers , small sized and everything in-between crowd the manufacturing marketspace and compete for your attention, and more importantly a slice of your manufacturing budget.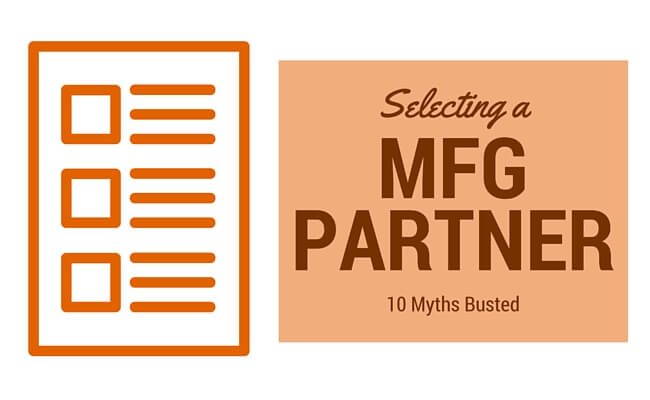 What are some of the metrics you can use to sort the list of manufacturing companies, so you end up with the best match for your company?
Ron Keith, Chief Executive Office for Riverwood Solutions has put together a great list that attempts to identify some of the 'myths' surrounding the process of selecting a contract manufacturing partner.
The Top 10 Myths About Selecting a Contract Manufacturing Partner
BY RON KEITH FOR INDUSTRYWEEK
With so much of today's electronics manufacturing outsourced, my team at Riverwood Solutions ends up spending a lot of time inside various contract manufacturing facilities. Sitting on a plane today heading to yet another contract manufacturing (CM) visit, I started tallying the number of CM factories, and the number of different countries my team has been in over the past year visiting CMs. I was able to quickly rattle off CM factories in 24 different countries on 5 continents that were visited by just the consulting arm of Riverwood Solutions in the past 12 months.

There are a number of different reasons why we spend so much time in outsourced manufacturing facilities. The one that I want to discuss here is the process of selecting an outsourcing partner or contract manufacturer. For an OEM that makes its living selling a physical product, the selection of a contract manufacturer to build that product is a weighty decision. Yet there are so many misconceptions and misplaced notions about what is really important in the selection criteria. The following is a list of some of the most common myths and misconceptions we see held by OEMs about selecting the right contract manufacturer.

10) "If I select the right contract manufacturing partner everything will be perfect." Contract manufacturing is a difficult, competitive, low-margin business – and it is one that needs to be actively managed. OEMs that get the best results, and that express the highest level of satisfaction with their CMs, are ones that structure their own operations organization to effectively manage outsourced manufacturing.

http://www.industryweek.com/supplier-relationships/top-10-myths-about-selecting-contract-manufacturing-partner
Contract Manufacturing Advantages
The advantage contract manufacturing offers is all about one thing, and that is maximizing profit.
The business that is outsourcing will try to attain the highest quality product for the lowest possible price.
The company that is performing the outsourcing is trying to establish a market share and base price for quality services performed.
In a perfect world a balance in achieved, and everyone makes a profit at the end of the day… but there can be pitfalls along the way.
Check out this article by WISEGEEK that covers some of the pros and cons of contract manufacturing.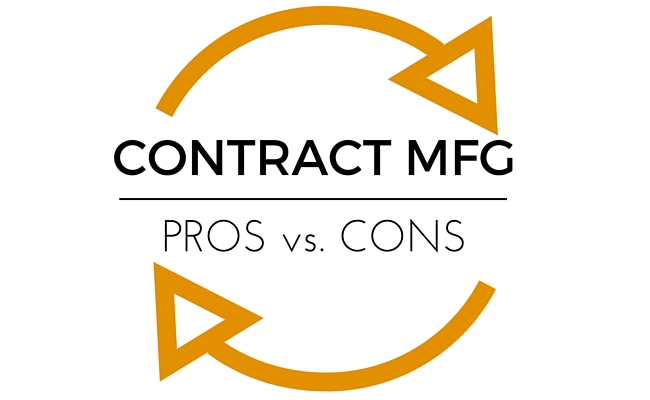 What Are the Pros and Cons of Contract Manufacturing?
BY WISEGEEK
Contract manufacturing refers to a situation where a business will engage the services of an independent party to perform a specified duty for the business. In terms of manufacturing, contract manufacturing refers to a situation where a manufacturer will engage the services of an independent party to perform a specified job. There are various reasons for this type of engagement by manufacturers, all of which involve the maximization of profit. The process of contract manufacturing also has some negative considerations that include the risk of uncertainty and lack of control over the process.

The management of companies in general realize that the best way to achieve the best output is to specialize in that in which they are most proficient. In economics, this theory is known as "comparative advantage," meaning that even though two companies can produce the same item, one of them is able to produce it in less time, at a cheaper rate or to a higher level of standard than the other. This is the major driving factor behind contract manufacturing. A company that is less equipped to handle a particular aspect of a production process or even the whole process for a particular item will be better served by outsourcing the manufacturing or production of that item to another company that is better equipped to do so.

In this sense, contract manufacturing allows companies to save costs by manufacturing a particular item at a cheaper rate than what it would cost them If they decided to undertake the manufacturing process themselves. Another advantage of contract manufacturing is the fact that it allows the company doing the outsourcing to shave some time off the whole process, giving them quicker returns and turnovers. Where a company is less effective than another in manufacturing an item, contract manufacturing will allow it to concentrate on that in which it is the most efficient.

http://www.wisegeek.com/what-are-the-pros-and-cons-of-contract-manufacturing.htm
Group Manufacturing Services, Inc. is the Ideal Contract Manufacturing Partner for YOUR Company
Where quality meets precision.
With over 30 year experience in contract manufacturing business, Group Manufacturing Services, Inc. a Tempe, AZ  sheet metal jobshop, will get the job done on time, every time.
See how we outperform the other contract manufacturing companies!
Summary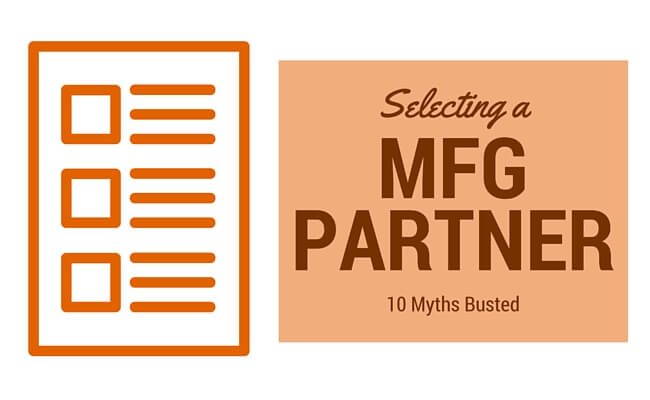 Article Name
Selecting a Contract Manufacturing Partner: 10 Myths Busted
Description
Selecting a contract manufacturing partner can be a challenging process. Here are 10 tips to help you select a contracting manufacturing partner that will be a good match for your company's manufacturing needs.
Author
Group Manufacturing Services, Inc.