A2Z Metalworker
Group Manufacturing Services, Inc. was featured on the cover of the A2Z Metalworker magazine, a publication that is focused primarily on the precision machining industry.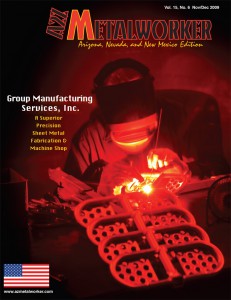 From the A2Z Metalworker website:
A2Z Metalworker consists of three regional manufacturing magazines; the A2Z Metalworker Southwest for Arizona, Nevada and New Mexico; the A2Z Metalworker Rocky Mountains for Colorado, Utah, Idaho, Montana, & Wyoming, and the A2Z Metalworker West Coast for Washington, Oregon, & California. All three magazines are focused on those in the precision manufacturing industries.
Group Manufacturing Services, Inc. is highlighted with a 4 page in depth color article showcasing our facilities, certifications and in-depth company information.